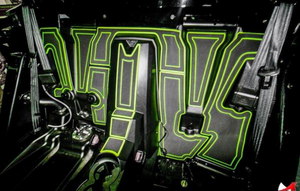 New Product Release: Speed WildCat XX Heat and Sound Proofing Kit
Our Heat and Sound Proofing Kit is now available on our website!
Heat and noise are always an issue in off-road vehicles. Speed SXS created heat barriers to keep heat out of the drivers compartment in our WildCat XX. Using high quality closed cell EVA foam mats, we made a kit that is easy to install and significantly reduces both heat and noise. Drive in comfort all season long with the new Speed SXS Heat and Sound proofing kit.
The kit uses 3m adhesive that is placed on the firewall, foot well, drive shaft/shifter tunnel, and steering column. Rear Cargo bed and floor mats use snaps for easy cleaning, install and removal.
Snap in notes: Remove snap-in mats periodically to clean the underside of the mats and the surface below the mats. Water and debris may get trapped underneath. 
General cleaning: regular cleaning can be accomplished by simply washing the mats with mild soap and water.
Suggested cleaners: Simple Green, Soft Scrub, Formula 409
Installation notes: Clean the surface with a denatured alcohol and clean rag prior to installing any of the stick-it pieces to ensure a proper adhesion of the 3m material.
Use a scribe and Philips screw driver to install the snap-in pieces.
Buy it here: https://speedsxs.com/collections/speed-skid-plates-and-protection/products/speed-wild-cat-xx-heat-sound-proofing-kit
---